Posts tagged with 'games'
Matt Bok is back again, and he discusses retro games and a few tech products that retro gamers might want to check out.
Show notes:
Want to be on the next episode? You can! All you need is the willingness to talk about something technical.
Theme music is "Crosscutting Concerns" by The Dirty Truckers, check out their music on Amazon or iTunes.
Welcome back to another "Weekly Concerns" (after skipping a week). This is a post-a-week series of interesting links, relevant to programming and programmers. You can check out previous Weekly Concerns posts in the archive.
If you have an interesting link that you'd like to see in Weekly Concerns, leave a comment or contact me.
There was a period of time that I was really into the game show Jeopardy!
I even had aspirations of becoming a contestant on the show, but alas it hasn't happened yet. But I did some research, and tried to figure out the best way to study/practice.
One of the best ways to practice is to actually play along with episodes of the show. Karl Coryat, a contestant on the show in 1996, came up with a way that you can practice at home and track how well you are doing. I started doing this, but it was somewhat tedious to do it with pen/paper or even an Excel sheet, so I wrote a little HTML/JavaScript to do most of the tedious stuff for me.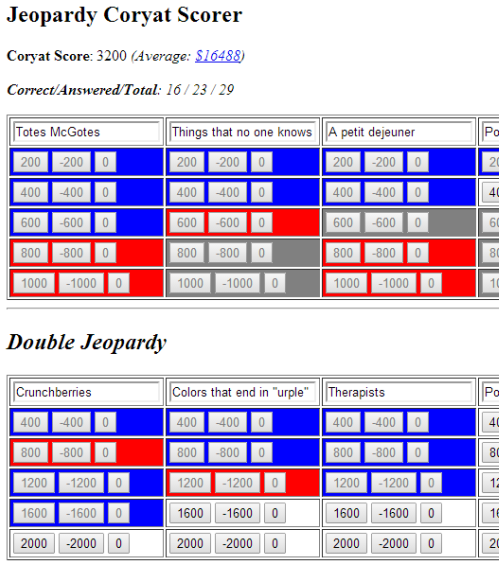 You can check out my Coryat Scorekeeper now on Github. It's actually a pretty old piece of code at this point (it uses jQuery 1.4.0, which I believe was the latest release at the time I wrote it). It could probably use a fresh coat of paint (and an updated reference for the average Coryat score), but it's still functional!