Note from Matt: This is a guest post by James Bender for the Third Annual C# Advent.
For those who don't know me, I'm that guy. You know the type; the ones who is super OCD about their code, stresses component-based architecture that encourages reuse, and who's into Unit Testing. I think a lot of problems in the world could be solved if we all just practiced Test Driven Development.
So, when Matt reached out to me about writing this post, the first thing I thought of was unit testing! And so that's what this post will be about!
Everyone: GROOOAAAANNN
Hey! When you all start unit testing, I'll stop harping about it!
While I prefer the idea of TDD, I understand that it isn't always an option. People who are just starting off with unit testing might not feel comfortable with the "test-first" paradigm, which is totally understandable and completely fine. Some people (like myself) often inherit codebases where the code is already there, but there is not a test to be found. Sometimes, if feels like it would take a miracle to make these code bases even testable!
Behold, a Christmas Miracle!
Well, I may be overselling the whole "miracle" aspect, but this will still be pretty cool. We're going to take some code and refactor it to make it more testable.
Here is our starting point: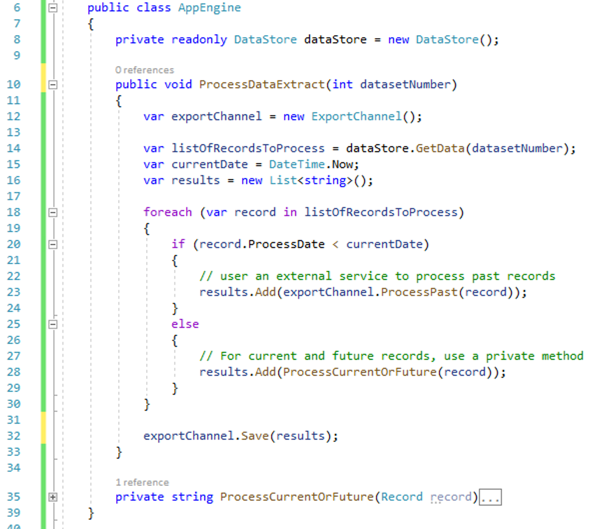 This is an amalgamation of a lot of the problems I see with code that limit its testability. To be fair, this code as a lot of issues, but today we'll just deal with the ones that limit its testability.
There are a variety of ways to deal with refactoring this, and not everyone will approach it the same way. In my case, the first thing I'm noticing is that the function we'll be refactoring (ProcessDataExtract) doesn't return a value. This can make it difficult to determine if my test passes; if I don't have any output, how can I verify the method worked? Yeah, I could create a mock of the exportChannel object and ask it if its Save method was called, and what data it was called with. But this isn't the best approach. I'm relying on a supporting object (the mock) to provide basic functionality that my test should be able to do without help. And what happens if there's a change to ExportChannel causing me to change my mock? This makes this test difficult to maintain. So, for my first refactoring, I'll be changing the return type: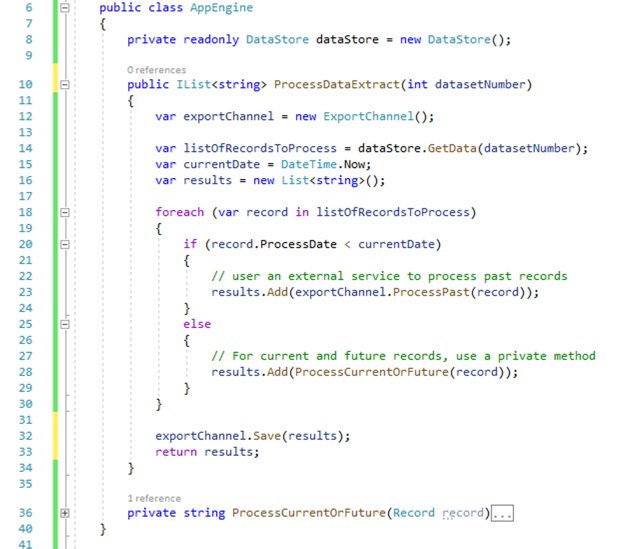 On line 10, I change the function signature to return an IList of type string. I added a return statement on line 33 to return the results list that is sent to the Save method of the ExportChannel. This enables me to interrogate the results list directly to verify my test. It also makes ProcessDataExtract itself more useable by being able to provide (return) data as opposed to seemingly swallow it up.
The next thing I notice (frankly, it's kind of hard to miss), is that I have some static dependencies. On line 8 I have a class-level reference to the DataStore service, and at line 12 (in the method body) I have another one to ExportChannel. These have got to go!
Those of you who might be new to testing might be asking why this is a problem? You've probably seen dozens of tutorials showing this being done. The problem is that this creates a very brittle piece of software that cannot adopt well to change. If I wanted to add a constructor argument to DataStore I would have to make a change everywhere this service is invoked. That could be dozens, if not hundreds of places. Another issue, which has a direct impact to testability, is that I may eventually have a situation where I want to use different specialized versions of this service in different situations. Creating a direct static dependency to DataStore in this manner makes that almost impossible.
In a testing environment I don't want to use the actual production implementation of these services. They may make my test slow. Things like I/O operations, web service calls, and database access are notoriously slow. These are crucial for running the application but make testing difficult.
Another concern is that when I write a test, I ONLY want to test the specific code in my method; not the code in the dependencies, which should have their own specific tests. To solve these issues, when testing this code, I want to use mocked versions of these services. Mock are basically stand-in objects that can return canned values that the code can use to verify its logic. Mocking can be a very involved topic, and so I won't got into a deeper discussion here. If you would like to learn more, please see the links at the end of this post.
But, with statically bound dependencies, how do I get the code to use my mock objects instead of the real ones when I want to run a test? The answer is to refactor our code to use Dependency Injection:
In this refactoring, I have added a constructor to the AppEngine class which takes a DataStore as a parameter. The consumer of this class will pass in an instance of DataStore (or an object derived from DataStore), which my class can use. Additionally, I added parameter of type ExportChannel to the method ProcessDataExtract. This again requires that the calling method provide an object of type ExportChannel. This enables me to pass in mocked objects as part of my test; my test will be the consumer of the AppEngine class and will be calling the ProcessDataExtract method.
As alluded to above, this not only enables to me to pass-in mocked values for testing, but also allows me to pass in specialized versions of those classes based on whatever my current context is, which enhances code reusability. This is especially evident with the ProcessDataExtract method. I may need to run several types of extracts with this method that would only very by the type of ExportChannel. Now, I can reuse this method and pass in whatever ExportChannel I want. This is similar to the Strategy Pattern, which you can read more about here.
So, this method is already looking a lot better. You might even think that we're done, and there's no way we can improve the testability of this method. But there's still one problem. It's subtle.
Do you see it?
Hint: What happens if I run this test now, and then run it again in an hour? Am I guaranteed to get the same results?
Look at line 17. This line creates a problem for me. The ProcessDataExtract function sorts records based on the current time. If I am using a mock of DataService to pass in a static, canned set of records the code is going to compare the current time captured on line 17 to the time in my test records. Time goes on, but my test data stands still, and eventually, my results are going to change, which could cause my test to act unpredictably.
When creating testable code, a good practice is to abstract away anything that might change. In this case, the value of DateTime.Now changes constantly. So, we need to take it out of our equation, at least for testing: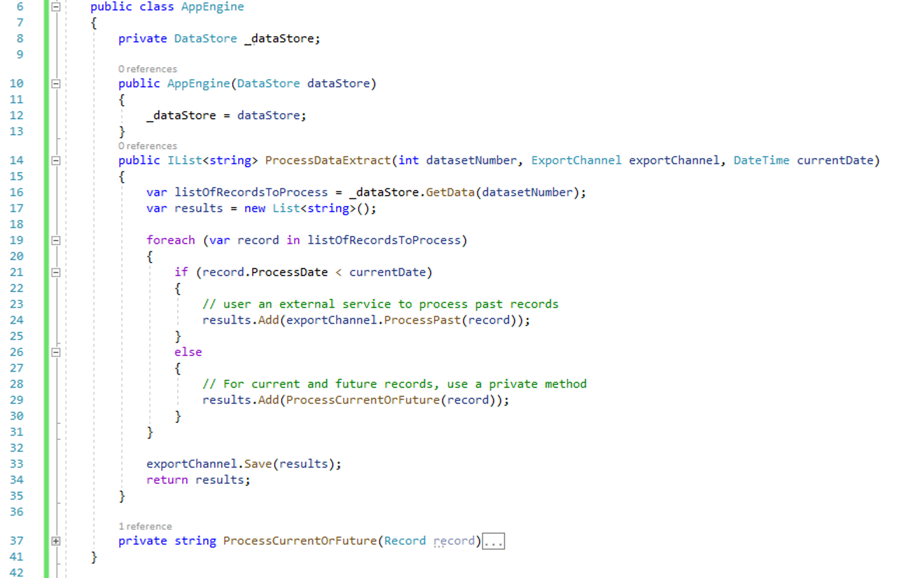 To solve this issue, I have removed the call to DateTime.Now on line 17 and made currentDate a parameter for the ProcessDataExtract function. This means that when I run my tests, I can pass in any date I want, which means I will be getting consistent test results. Like the previous refactor, it also enhances the reusability of this method. I'm no longer bound to the current date. I can run it for past dates and future dates without having to create a separate method.
And that's it! With three easy-ish steps we took a piece of untestable legacy code and made it testable! Now, I know this was small example. But the concepts don't care about the size of the code; there may be more work to do for some of these in larger code bases, but you will still be able to use these techniques to handle most refactoring situations.
Shameless plug: I you would like to learn more, please check out my book, which is available on Amazon.
Happy Holidays!
Comments